The Volume´s explosion and the speed with which information is created make data management a priority in the organizations.
It analyzes business variables by performing searches and instant associative analysis, in an easy and flexible way. That´s the key to improve the users performance.
Qlik is the tool that provides the organization the possibility of experimenting, analyzing, innovating, making decisions and defining new types of information management through database information.
It provides a powerful data analysis and a group of business solutions including data preparation and integration, API management toolkit, data and metrics libraries, rule-based security and central management that will support all the inqueries and implementations made by users.
---
Fast implementation
Customers can start using the system in less than 30 days.
Easy to use
Final users don´t need training
---
Flexibility
Allows an unlimited number of dimensions, the measurements can be changed in seconds. Integration
No Risk
Free download of full functionality.
Asap Consulting represents QlikView and its associated services.de sus servicios asociados.
We provide consulting services for the implementation of data analytics projects.
Associative experience
User Driven: Follows the user, all data always visible, minutes to change, insight driven.
Core QV Technology
The best technology for your company.
QV´s diffusion inside the company
Now the diffusion within the company is much easier.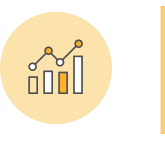 It is the Qlik product for last-generation self-service data visualization, which allows people to create their interactive views that lead to exploration of information and discovery of the business through intuition.
Is an easy analytical tool to use which can generate personalized reports and instant detailed dashboards. It helps users to make better data use and obtain better information.
Qlik Sense allows a faster access to knowledge, with intuitive exploration, intelligent search and advanced visualization. Among its main benefits:
• Easily creates intuitive and dynamic dashboards
• Explores data in depth and gets accurate information.
Qlik Sense gives users the possibility of data analize, interacting with the charts and visualizations.

The tool can be used on any mobile device.

It supports complex integrations to combine and transform
data from multiple sources and to provide constant analysis, fast calculations and associative searches.
Its data loading engine allows data obtention from different parts of the organization in a single application, using an interactive user interface.
Qlik Sense has libraries with centralized data visualization, rule based security, management tools,
scalable architecture and open source APIs. It can be customized so that it meets the requirements of the business.
Interactive analysis, without boundaries
---
Simply smarter visualizations
---
Create and explore on any device
---
• 

Easy viewing
•

Analytics on real time
•

Storytelling Functionality for Data
•

Self Management of Reports and Dashboards
•

Shared object library
•

Progressive report generation
•

Integration with multiple data sources
•

Rapid Implementation
•

API's Library
•

Scalability
•

Security